The best fireworks, according to L.A.'s pyrotechnic legends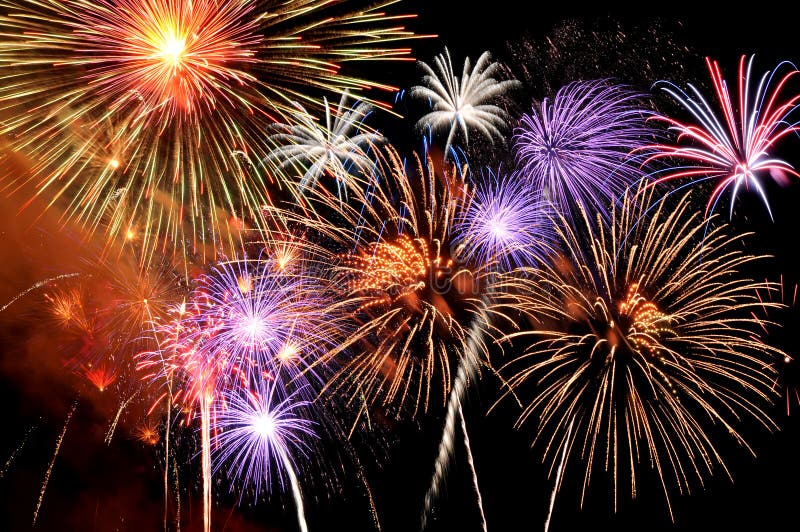 Some call them fireworks. Sarah Boyce calls them magic.
The pyrotechnician has spent a decade behind L.A.'s largest spectaculars, launching fireworks at the Rose Bowl, the Hollywood Bowl and Dodger Stadium. While all shows are enjoyable, the Fourth of July is her favorite. A show is a gift she gets to give, she says, and then adds with a laugh, "and you get to blow some stuff up."
"It's hard work, but at the end of the day, it's like, what else? Where else would you want to be? What else would you want to be doing than bringing magic to thousands of people?"
While all fireworks are precious to pyrotechnicians, they each have their favorite — and crowds can look out for them in the sky this Fourth of July.
Boyce's favorite firework, the brocade kamuro, erupts into golden dust and shimmers down slowly, taking up the bulk of the sky. Instead of a "pop-pop-pop" pyrotechnic, it takes its time. When watching it, Boyce says, you just sit in the glory of it all.
COVID-19 hit the fireworks industry hard. In 2020, many shows were canceled in Southern California. Several returned in 2021, but this year, Fourth of July events are largely back in full swing. Fourth of July fireworks will launch at the Hollywood Bowl, the Rose Bowl, Hollywood Forever Cemetery and along the beaches of Marina del Rey, Redondo Beach and Huntington Beach. City-run celebrations will punctuate the night sky, and from the right spot, you can see L.A.'s hills and valleys fill with light.
"It feels even more special than it did before," Boyce says.
In Southern California, fireworks aren't just seen one night a year. Disneyland fireworks thud through Orange County nightly while illegal street shows in L.A. kick off in June and can last through August. Personal use of fireworks is illegal in the city of L.A. and unincorporated parts of L.A. County due to fire risk. At professional shows, safety crews are on fire watch and security workers guard the fallout zone.
"Fireworks are really embedded in people's minds. Whether they love them or they hate them, they're definitely around, especially in Southern California," says Matthew Biolchino of Fireworks America.
From enormous, gold-dusted waterfalls to twinkling happy faces, each successful firework blast is worthy of the applause that follows.
"There's something really beautiful and special about gathering people together to let all the stresses of normal society and everything else that's going on disappear and just have this beautiful moment of artistry," Boyce says.

Jellyfish Firework: Via Pinterest
The jellyfish is tricky, but worth it
If Biolchino is choreographing a show, chances are he's snuck in at least one medusa shell.
The medusa shell, also called a jellyfish, lives up to its name, with bright tentacles sprouting from a rounded head. Launching a well-formed jellyfish requires several things to go right, from the pattern inside the firework to the orientation as it spins. The firework itself is a testament to pyrotechnic complexity.
"If it's a show I'm working on, I always put at least one medusa shell in there just for me, so I can see it," Biolchino says.
Ten-year-old Biolchino was a regular at the Cypress fireworks stands. When he turned 18, his cousin recruited him to work on his first pyrotechnic show. Biolchino, now 47, has been lighting Fourth of July shows ever since.
Since 1994, he's been lighting off for Fireworks America. He currently oversees sales and logistics spanning from Santa Barbara to Camp Pendleton. He also spent five years at Disneyland Resort as a lead pyrotechnician. The Fourth of July is particularly hectic, as he operates his own shows in Cypress, Lakewood and Los Alamitos while overseeing 23 others.
As he stands at the control board before a show, he watches out for an array of possible issues. A fireworks show can be done a number of ways, Biolchino explains. A pyrotechnician can light fuses by hand with a flare or butane torch, but most pyrotechnic companies have stopped using this traditional (and risky) technique. More commonly, a pyrotechnician touches a probe to a pin board, which sends power to the selected firework shell, or they synchronize an audio track with the fireworks using computer time codes.

Happy faces looking up — and in the sky
For the last decade, Don and Tarrie Sillert have blasted fireworks from the end of the Huntington Beach Pier. When the last of the fireworks explodes into the black sky, they sizzle and disappear. Four seconds of silence always follows.
Then, a roar of applause from the beach.
Don, who got his start about 20 years ago, favors fireworks that explode into creative shapes like palm trees or smiley faces. After her decade in the biz, Tarrie has another take. "Since I've been doing this, I have not actually seen a firework show in the air, because I watch them launch," she says. "I hit the pin and I only look up to make sure they launch, so my favorite firework is the one that does not blow up in the gun."
For the Sillerts, fireworks are a family affair. About 12 years ago, their kids — then 15-year-old daughter and 10-year-old son — joined the family business. Eight other friends and family members join Don and Tarrie on the Fourth of July at Huntington Beach, rubbing the sleep from their eyes at 6 a.m. to prep for the spectacular. When night falls and the fireworks begin, four remain. Don supervises safety and logistics while Tarrie launches the pyrotechnics at the pin board.
"My biggest message to everybody is just let the pros do it. Enjoy a pro show. Nobody gets hurt that way," Don says.
"It is the hardest job you will ever do, the hardest work you will ever do all year long, but it's the most rewarding thing I do all year long," Tarrie says.

Golden Willow Firework: Via Flickr
The golden willow is a crowd favorite
As a fourth-generation pyrotechnician, Jim Souza has fireworks in his blood. Picking a favorite firework is an impossible task, but Souza says the golden kamuro — or golden willow — is always a crowd favorite.
"The payday for us is the oohs and ahhs. When you say, 'Gee, I really want to put this up in the sky, create an emotional feeling, a sense of pride of America,'" he says. "You know you nailed it when you can hear the crowd express that joy and happiness."
Souza helms the family business Pyro Spectaculars. His three sons are carrying on the legacy into a fifth generation. This year, the Souzas will manage shows at the Hollywood Bowl, Rose Bowl and Hollywood Forever Cemetery, along with spectaculars as far away as New York.
To Souza, pyrotechnics are their own language.
"We're really communicating to people through our shows, our emotion, celebration, our pride, tradition," Souza says. "We're taking something that's really an explosive device, that's very dangerous. And that's our job behind the scenes, to make it look smooth, casual, exciting and seamless and spectacular."

Zigzags fill the sky with color
Tiffany Nichols doesn't hesitate when asked her favorite firework: It's the 408 zipper. The zipper is a multishot firework that travels at an angle and zigzags in the air, filling the sky with color.
Nichols often works for Zambelli Fireworks and loves to take on cake shows, which include fireworks with a chain reaction that send multiple shots skyward. The 408 zipper, as the name suggests, blasts 408 shots to craft a zigzag pattern. Nichols quotes an old pyrotechnician as saying: "Once you smell the smoke, you'll never be free."
She once arrived to watch a friend's fireworks show in a sundress and flip-flops, completely unaware that she was about to discover her future career. When she saw the fireworks, she was a goner. "All I could think of was, 'Oh, my gosh, I've got to do this,'" Nichols recalls. "I can't explain it. It's kind of like an obsession and addiction. It's just awful. But it's just so much fun."
Nichols has plenty of Southern California shows under her belt, but one of her favorites is in East L.A. at Belvedere Park Lake, where she gets to glimpse the audience.
"Most of the time, we're hidden. We're behind a fence, behind a wall, far enough away that we don't get to see the people," Nichols says. "But that show, you can actually see your audience, and at the end of the show, you can hear the applause, and it just makes you feel like Mick Jagger."

The finale is a rush
The Angel Stadium fireworks mesmerized a young Elias Bourjeili, so much so that when he went home, he played pyrotechnician with crumpled balls of paper.
After 15 years in the industry, he no longer needs to make his own pretend sound effects. Bourjeili has come full circle to work on pyrotechnics for Angel Stadium. This Fourth of July, he'll launch fireworks for the city of Laguna Hills for the first time.
Two to three days of backbreaking work preparing for a typical show pays off when he and his crew set off the finale.
"Every time a show goes off, it feels like you're getting punched in the chest, and it's just an amazing feeling," Bourjeili says. "You get that really big rush. And everyone at the very end kind of looks at each other like, 'Oh, my gosh, I can't believe we just saw what we saw. And I can't believe we did what we just did.'"
In that finale, Bourjeili is watching out for the kamuro firework.
"It paints the whole sky in this glittery, shimmering light, and that is probably my favorite thing to watch at the end of the show," he describes. "You just end with that picture, and it's like, 'Wow, that was magical.'"

Waiting for the biggest shell
Three decades in the fireworks business means Esther Offerman knows the importance of being ready.
After all, few things require as much preparation as explosives, especially when you're filling the sky with so many of them.
Offerman's pyrotechnic career started in Santa Barbara, continuing throughout Southern California and beyond. This year marks her eighth time working the Macy's Fourth of July Fireworks in NYC, the city's most extravagant show. More than 65,000 shells will catapult off the East River's five barges.
Throughout her years of putting on fireworks displays, Offerman always finds her eyes following the brocade kamuro, one of the biggest shells she launches, especially when several volley into the sky at once.
Browse our latest posts below.