This 55-Year-Old Dancer Wants Everyone to Know Passion is Ageless—and She's Spreading That Message One TikTok at a Time
By The Sunday Paper Team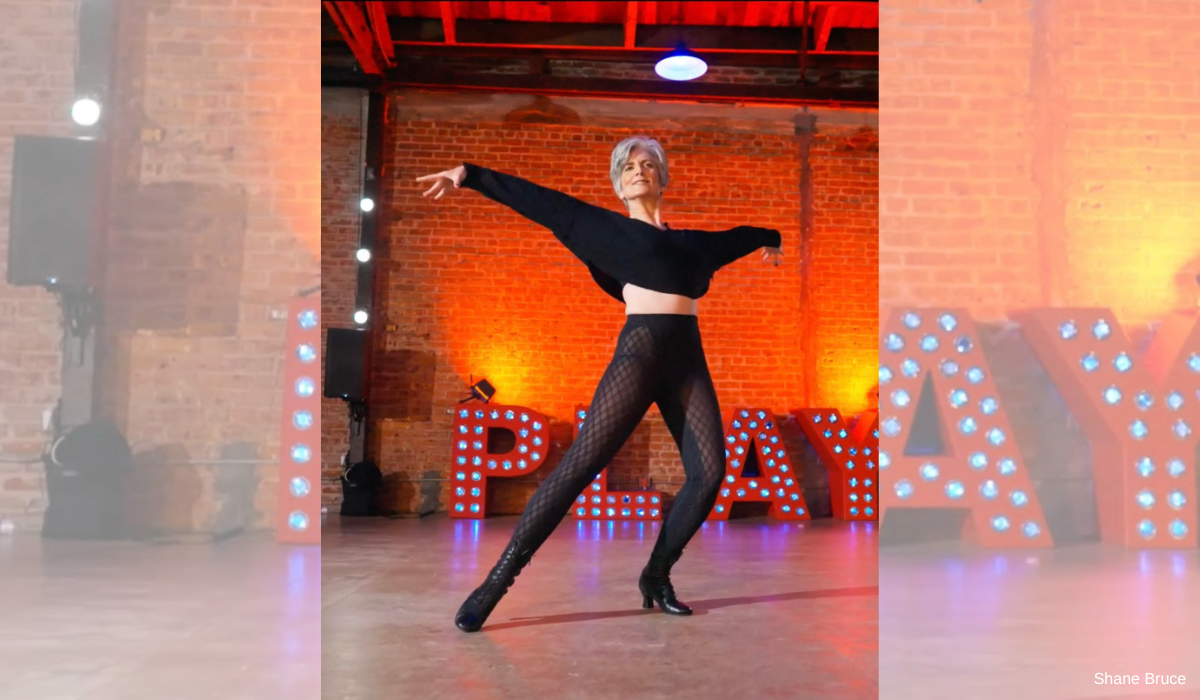 For as long as Kim Hale can remember, she wanted to be a dancer. Yet while she achieved that dream, dancing professionally for over 10 years and even becoming a dance teacher, there came a point in her life when she almost gave it all up.
"I looked in the mirror and I didn't recognize who was looking back at me," Hale told The Sunday Paper. "My body had changed, I couldn't do what I used to be able to do, and I was scared. Who was I if I wasn't a dancer?"
Now, at 55 years old, she's taken to TikTok (you can follow her at @mskimhale) to expand the narrative of what's possible for women in their 50s and beyond. With more than 618K followers, Hale has quite the audience for her positive messages that take on society's outdated narratives on aging.
We asked Hale to tell us all about her path to fully embracing herself as a dancer, as well as her best advice for anyone who feels like it's too late or that they're too old to pursue their dreams.
A CONVERSATION WITH KIM HALE
Can you tell us more about your dancing journey and how you got started?
My dance journey has been anything but linear, with many stops and starts along the way.
I turned my back on dance because I thought I'd rather not dance than be a diminished version of myself. I basically robbed myself of doing what I love most. What I didn't realize then is that I needed to reimagine who I was as a dancer, rather than be enslaved by who I thought I once was. It took the COVID-19 lockdown, the loss of both my parents, a melanoma diagnosis, three skin cancer surgeries, and Bell's Palsy for me to wake up!
At the lowest moment in my life, a voice inside me said, "It's time to find your way back to dance." I thought, Me, with my white hair and scarred face? Seriously? One day I decided to prop up my camera in my living room, learn a trending dance, and share it on Instagram. And so it began. A few months later, I found myself in choreographer Dexter Carr's hip hop class at Playground LA, where I struggled to keep up, but I experienced a glimmer of my love for dance return and a newfound hope for the future. Before I knew it, I was back in the mix with new and improved dreams for the future, training daily in every genre from ballet to hip hop.
How does it make you feel when you're dancing?
When I am dancing I feel like I am the truest and most authentic expression of myself. It is the most wonderful feeling in the world. As soon as the music comes on, a life force and energy greater than myself overtakes me and I get lost in the music, the lyrics, the intricacies of moving my body, and the pure joy and love of expressing yourself without words. I can honestly say that dance is and has always been my first love.
How have your videos been received on social media? Have you seen any encouraging comments that have inspired you?
I am still amazed that people even watch my videos. Overall, people have been supportive of my journey. One of the most fascinating things I've learned and become aware of are the stereotypes associated with being a woman with white hair. Wow! In the beginning and even now, I will get comments such as, "Get it granny!" I wasn't aware that we live in a culture where white hair equals grandmother. Call me naïve, but I did not know that was a thing until I experienced it firsthand. I was offended at first. But in the end, I decided I would use my social media platform to help expand the narrative of what is possible at every age. That conscious choice changed everything for me and gave me a sense of purpose behind sharing my journey.
I am always moved when someone comments or messages me saying that seeing me pursue my dreams has inspired them to take a dance class or revisit a hobby they abandoned because they thought they were too old. My response is always, "Go YOU!" In my experience, transformation begins with that first step or action. You never know where it might lead and the possibilities are endless. I receive a lot of encouraging comments that lift my spirit on a daily basis. To think that someone took time out of their day to say something kind to a stranger is a gift I don't take lightly.
You've said that "passion is ageless." What do you mean by that?
I believe our ability to feel enthusiasm or excitement for anything is not defined by how old we are. In my own experience, my genuine passion for dance and movement transcends time, space, age, ethnicity, body type, ability, gender, and personal identity. I dance because I have to. Does my passion for dance express itself in my body the same way it did when I was 20, 30, or 40? Absolutely not. However, while I may have to adapt my body in new ways, my passion remains an unwavering constant that knows no boundaries.
What message do you have for someone who feels like they might be too old to pursue their dreams?
I love this question because it is something that I struggled with for a long time. Honoring the calling of your life is a lifelong commitment. And there is no timeline for your dreams coming to fruition. Do yourself a favor and LET. THAT. GO.
I danced in my first movie in my 50s, I performed on my first television show in my 50s, and I danced in my first music video in my 50s. If I can do it, so can you.
Here's the thing: If you want to do something, go for it! But you must be willing to do the work and accept that you may have to reimagine those dreams a bit to align with where you are in your life's journey today. There is no magic fairy that is going to come down and make your dreams come true. You have to work for it and believe it is all possible. It is also important to surround yourself with people who will support you, encourage you, and be honest with you along the way.
The most important lesson I have learned in the last two years since I returned to dancing is to hold your passion close to your heart at all costs. Do not let anyone or anything rob you of that. Not even yourself. Guard it with all your might. My hope for you and for me is that it works out better than we ever, ever imagined.
Browse our latest posts below.