Tiffany & Co. Drops $215,000 USD Pavé Diamond Race Car Clock
Don't worry, the "Time For Speed" collection also presents a $40,000 USD sans-diamond version, too.
By Eric Brain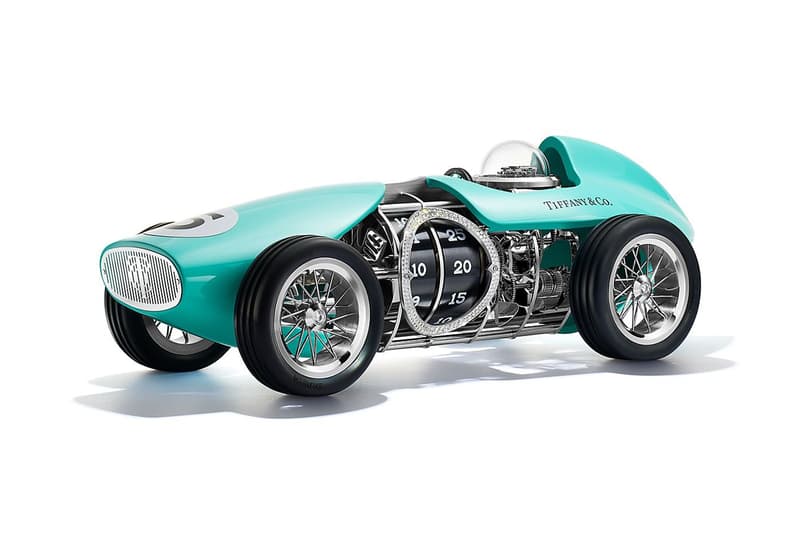 Tiffany & Co. has a knack for producing wild gifts around this time of year — cast your mind back to last year's Supreme collaboration or the time it dropped a $112,000 USD advent calendar if you need reminding. Well, now it ups the ante with another masterpiece creation, introducing its "Time For Speed" collection with a $215,000 USD Race Car Clock.
Of course, this is not just any old mantlepiece stunner. Instead, it comes in the patented shade of Tiffany Blue that decorates the clock's aluminum body. The paint is also of the same standard used on real cars, while the addition of diamonds is something you may not typically find.
Indeed, round brilliant diamonds with a total carat weight of 19.53 lbs have been placed onto the clock by hand, decorating the clock's bezel and engraving plate in a pavé fashion. A brushed stainless steel aperture displays the hours and minutes, while components like the escapement and balance wheel are showcased under a helmet-shaped dome on the top of the clock.
Clock maintenance has been made fun as, to wind up the movement, you need to pull the car back on a flat surface — just like a childhood toy. Likewise, the time is set using the steering wheel.
For those who want to drop less money, Tiffany & Co. has also produced a sans-diamond version of the clock that retails for $40,000 USD. Take a closer look at the piece above, and find out more online.
Via Hypebeast
Browse our latest posts below.