Can Frank Gehry Interest You in a Condo?
In Toronto, the greatest living architect is wading into one of the world's biggest building booms at the worst possible time.
Gehry Photographer: Brendan George Ko for Bloomberg Businessweek
Camera shutters click and electro music thumps as 93-year-old Frank Gehry arrives at the stage. It's time to sell some condos. After a nearly six-decade career that's brought Gehry recognition as the world's greatest, or at least most famous, architect, this is something new. For the past 10 years he's been trying to get permission in Toronto, the city of his birth, to erect a pair of skyline-defining towers on King Street at Duncan, in the heart of the theater district downtown. One of the towers, at 84 stories, would be the tallest he's ever built.
Now, with the regulatory route clear, the biggest hurdle to realizing his dream is selling some units. Banks in Canada won't finance condominium projects unless at least 70% of the units have been presold. No presales, no late-career masterpiece. So here's Gehry, on a whirlwind two-day visit to his hometown, trying to drum up enthusiasm.
First up is this "rah-rah sales event," in the words of one of Gehry's local partners. Some 700 real estate agents are packed into a ballroom at the Art Gallery of Ontario, whose graceful convex glass facade Gehry himself designed, to ecstatic reviews, for a renovation completed in 2008. There are open bars on either side, waiters circulating with hors d'oeuvres, and a roving saxophonist doing solos. Opening acts have hyped up the crowd with predictions of ever-rising condo prices; Toronto's real estate boom has been going on so long that they're a better investment than the stock market, according to one builder. It's an odd time for such confidence, given that average home prices in the city have fallen almost 12% since February, the worst downturn it has seen in years, and one most economists say is far from over. Royal Bank of Canada predicts the country's housing market is in the midst of an "historic correction" greater than any in at least 40 years, raising the possibility that Gehry and his partners are trying to sell residential real estate at one of the worst times ever to do it in Toronto.
Gehry needs help mounting the stairs and moves with a stooped shuffle once onstage. He's wearing his customary navy-blue blazer and black pants, forsaking the usual plain-black T-shirt for a collared button-down in deference to the occasion. The real estate agents greet him with wild applause, cheers, and whistles. After Gehry slumps into his chair, an interviewer asks him for some reminiscences about his boyhood in Toronto. He somewhat listlessly obliges, recalling working at his grandfather's hardware store on Queen Street, delivering telephone books in a little wagon on King Street, and sneaking into a long-disappeared strip club with his pals. But when the conversation turns to the towers, Gehry perks up, his voice suddenly sharp and clear.
"Let's get to the action," he says to cheers and claps.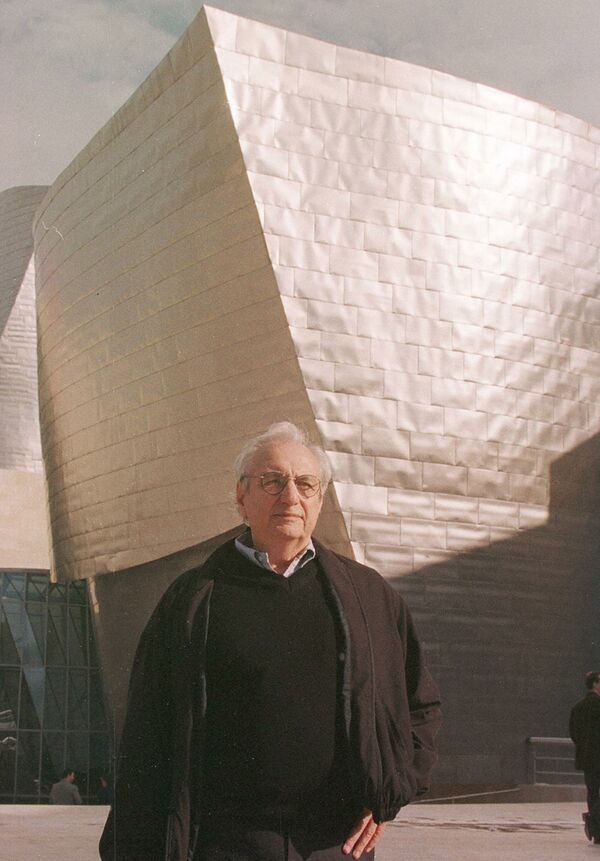 Gehry became a global household name by designing cultural institutions that look more like sculptures than buildings. The Guggenheim Museum Bilbao in Spain, the Walt Disney Concert Hall in Los Angeles, and the Fondation Louis Vuitton in Paris are among his most notable works, with swooping, sinuous forms that seem to exist independently of their functions. The buildings are unmissable and unforgettable, already enough to ensure Gehry is often brought up alongside Frank Lloyd Wright when architecture buffs debate the greatest of all time. But his creations are also sometimes criticized as nothing more than showy shapes clamoring for attention—he once flipped the bird to a Spanish journalist for suggesting as much.
Gehry considers himself a commercial architect, and the Toronto condo project has presented him with the opportunity to correct what to him is one of the biggest misconceptions about his storied career, the idea that his buildings are all about form with little regard for function. In applying his signature style in one of the most commercially unforgiving segments of the real estate business, condos, he's hoping to demonstrate that his buildings don't just look good, they work, too. But to Gehry, it's not just his ego at stake, it's the skylines of cities everywhere.
The pandemic saw home prices soar well beyond local incomes across North America, ushering in what's widely seen as an affordability crisis. Even as this year's sudden rise in interest rates reverses some of that price inflation, the core problem remains: a fundamental shortage of homes. One American housing group estimates that the US had about 3.8 million fewer than it needed in 2019. A Canadian government report published this year estimated that the country—which has a population that's a fraction of the size of the US but growing much faster—needs to build an extra 3.5 million homes by 2030.
Many of those units will have to go in Toronto, Canada's most populous city by a fair measure, at more than 6.5 million people in the metropolitan area. The city has already been experiencing a building boom for much of the past decade, which has both comprehensively failed to keep up with demand and transformed the skyline with thickets of towers regularly dismissed by locals as "uniform," "ugly," and "filing cabinets for people."
Gehry couldn't agree more. He sees his planned towers, dubbed Forma by the marketers, as a way of demonstrating that in the even more intense building boom to come, good architecture doesn't have to be sacrificed. It might even help with the business case, bringing cautious local officials and reluctant neighbors around to the need for density.
"You can tell people that my heart and soul is in the work," he told the assembled real estate agents who will constitute his Toronto sales force. "I tend to want to do that with a building. Make it a valuable asset."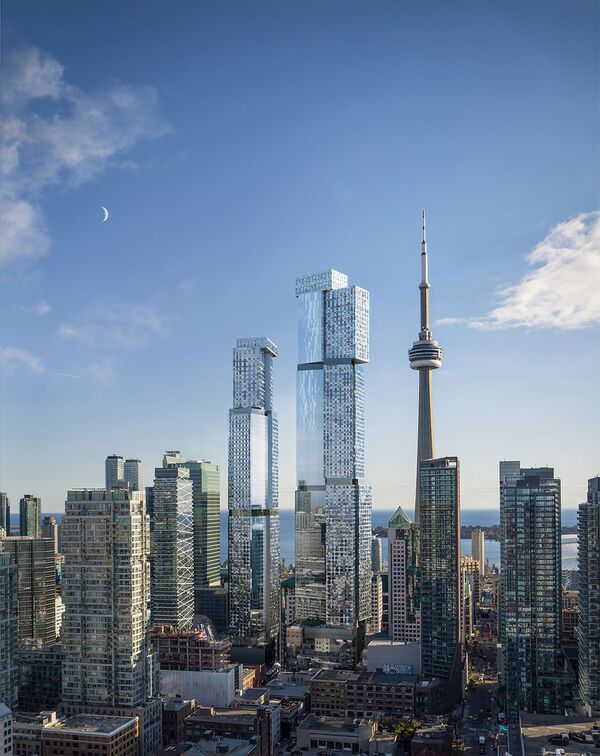 Ask Gehry about all the towers that have sprung up in Toronto since he last visited, and he responds with an "Oy vey!" I get this smattering of Yiddish in the lobby of the Park Hyatt hotel, where he's just finished breakfast with two cousins he hadn't seen in ages. Gehry mentions that one of the cousins, who he'd felt particularly close to growing up, said he no longer remembers their childhood friendship at all. That prompts Gehry to admit that his memories of Toronto are starting to fade, too, just as the low-slung, brick-clad city where they formed is itself disappearing.
He was born Frank Owen Goldberg in 1929. His parents were both immigrants to Toronto, his mother from Poland and his father from New York, and part of a growing Jewish community that still constituted an exotic minority in a vigorously Protestant city. Gehry would later tell his biographer, Paul Goldberger, that the relationship between his mother and father, whose main occupation was selling and servicing slot machines, was "edgy." His maternal grandparents' house on Beverley Street, between Queen Street West and the Art Gallery of Ontario on Dundas, was his refuge, and some of the now-famous details of his early artistic development took place there. Gehry traces his earliest interest in building things to playing on his grandmother's floor with the odd pieces of wood she brought home from a local artisan's shop, and his curiosity about different materials to his grandfather's hardware store.
But much of the city he remembers is gone. His grandmother's house is now a condo building. Bloor Collegiate Institute, where he went to high school and was a self-professed dork, is being demolished to become a whole neighborhood of condos. The site of the Mr. Christie's biscuit factory, where he and his best friend had jobs breaking up sheets of soda crackers for boxing, will be condos, too.
Gehry's family left Toronto for Los Angeles in 1947, when he was in his late teens, changing their last name over concerns about antisemitism. He's resided in LA ever since, but he's retained his Canadian citizenship and says Toronto still feels like home. He's returned occasionally over the years to visit family and friends, and for the art gallery renovation in the 2000s, his only Canadian commission to date.
It was on one of these visits that Gehry met David Mirvish, the son of "Honest" Ed Mirvish, a discount retailer, theater impresario, and local legend who'd acquired a substantial portion of downtown real estate while building his empire. Before David took over the family business, his first venture was an art gallery, and while hosting a dinner party for LA-based painter Ronald Davis in 1971 he struck up a friendship with Gehry that endured as Gehry's fame, and the value of Mirvish's real estate portfolio, grew.
By 2012, Toronto's building boom was kicking into high gear, with more residential projects under construction than in any other North American city, a distinction it would retain for much of the following decade. The boom even claimed Honest Ed's eponymous store, a city-block-size complex on Bloor Street that closed in 2016 after almost 70 years; it's being replaced by a mixed-use project with more than 900 residential units, set to be completed this year. With construction everywhere but not nearly enough to meet demand, Mirvish and Gehry decided it was time for a collaboration.
The year before, Gehry had unveiled his first skyscraper in Manhattan, a 76-story luxury apartment building overlooking the Brooklyn Bridge that had an undulating steel facade and was hailed by the New York Times as the best tower the city had seen since the 1960s. Within Gehry's office, though, it was seen to be an achievement as much in cost control as in aesthetics, and a proof of concept for large commercial projects. Conceived at the New York property market's pre-financial-crisis peak, the project was repeatedly adjusted by the developer as the US economy descended from credit crunch to real estate crash to recession. The wavy curtain wall on one side was replaced with a flat one, and, in the darkest days of 2009, a deal was struck with local unions to reduce labor costs and thus prevent the tower's height from being cut in half. Gehry's firm had to play its part, too.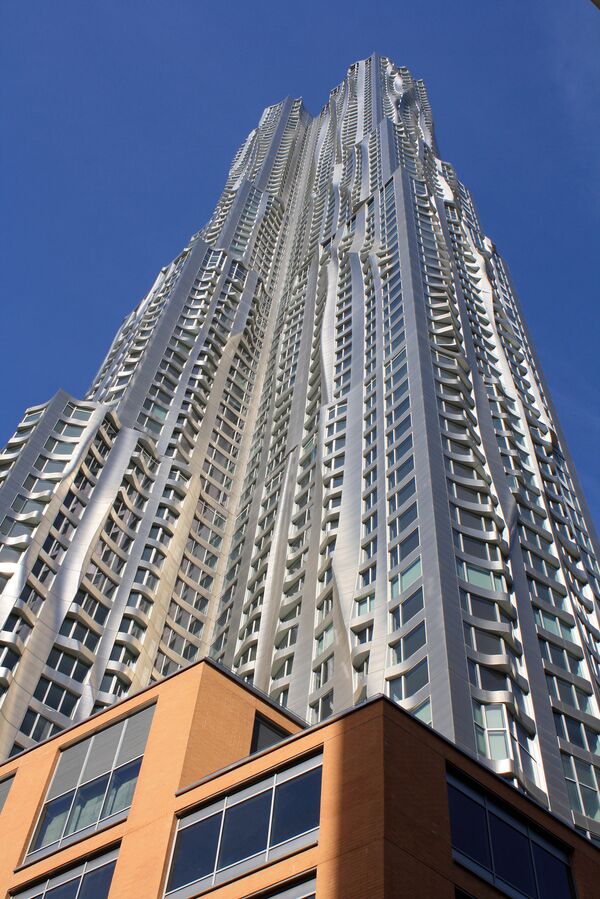 During the 1990s, Gehry had begun using computer-assisted design software—until then more common for aircraft and automobile plans—in his work, including modeling the curvilinear shapes that defined his masterpiece, the Guggenheim Bilbao. But he used the software for more than just showcase features, planning out how everything would fit together in three dimensions to produce especially accurate cost assessments before construction started, and to create particularly detailed instructions for contractors to follow when it did. Gehry's team argues that their use of modeling on the New York building more than offset the 10% premium its developer estimated it cost to build compared with a standard apartment tower, by helping the project eliminate mistakes that can account for as much as 20% of a building's budget. Gehry's office says that during construction of the curtain wall, the trickiest part, the contractors didn't have to submit any "requests for information." These documents seeking clarification about specs can indicate miscommunication or mistakes on the part of the architect, often require a redesign, and eventually lead to budget overruns. The tower, which Gehry's office estimates cost about $500 million to build, was sold last year to private equity giant Blackstone Inc. for $930 million. It was 95% occupied as of last November.
"With that software we've been able to do some pretty special buildings," Gehry says. "In our office we pride ourselves on delivering."
With New York as a precedent, he and Mirvish set about devising something even more ambitious for their hometown.
As one of the people responsible for building Gehry's Toronto towers, Mitchell Cohen seems a bit stressed. "I haven't slept in two weeks," he says. An avuncular man with thinning hair, tortoiseshell reading glasses, and the checked-blazer-and-jeans combo that seems standard issue in the real estate industry, Cohen is the chief operating officer of Westdale Properties, one of a trio of developers executing the project. He's serving as Gehry's chaperone and handler in Toronto, and he treats his guest like a beloved grandfather, at one point asking Gehry if he needs a schluff, the Yiddish word for nap. Otherwise, Cohen exhibits a nervous energy reminiscent of Jack Lemmon in the movie version of Glengarry Glen Ross. "Always be selling," he tells a colleague at one point, a variation on the "Always be closing" line that film introduced to sales lingo everywhere.
Cohen downs two cups of coffee as we chat in the lobby of the Park Hyatt. He compares the Gehry project to being ensnared by three lassos—one held by municipal authorities, one by Gehry's artistic vision, and the third by economic realities. Each lasso is pulling him in a different direction.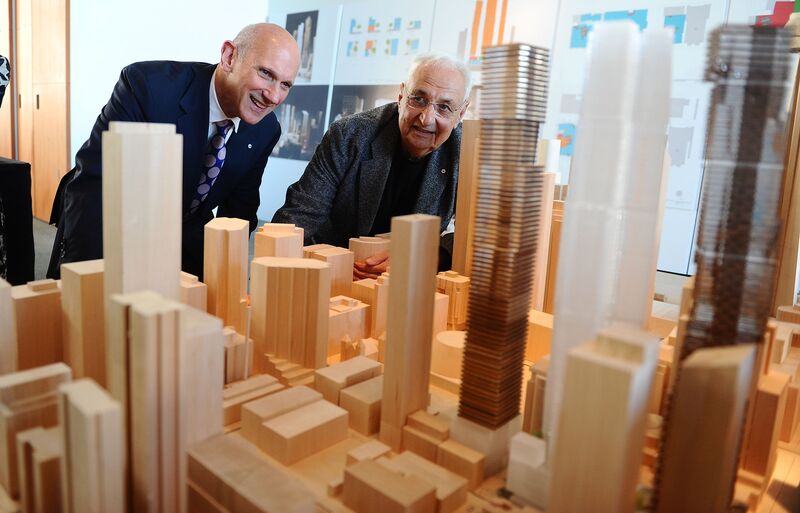 In 2012, Gehry and Mirvish proposed three towers, all of them over 80 stories and otherworldly looking, with each covered in its own elaborate copper, white, and gold-colored latticework, with ribbons of pearl swirling around their podiums. Aside from their obvious technical complexity, these designs blew past virtually all of the city's planning rules for the area. The highest tower allowed in the theater district to that point had been 157 meters (515 feet) tall, well shy even of the shortest proposed tower's 271. The more than 2,700 condo units Gehry and Mirvish would bring to King Street was more than double the density of residential units allowed in that part of town to date. And they wanted to demolish four historically designated brick warehouses in the process, as well as one of Mirvish's theaters, itself a beloved local institution.
The city council rejected the plan, but the rapturous reception it had gotten in local media and the prospect of Toronto being home to a major Gehry work were enough to bring officials to the negotiating table. More than a year later came a compromise: Mirvish and Gehry could have their height but could build only two towers instead of three, and the theater and one of the warehouse facades would have to be preserved. So they went back to the drawing board and came up with a new design; the paired towers would now both be silver and gleaming, with facades that alternated between sections of metal that rippled like Gehry's New York skyscraper and expanses of faceted glass set at angles to catch the light and sparkle like a giant urban waterfall throughout the day.
The zoning changes were approved in 2014, and Mirvish spent a few years navigating the rest of the permitting and regulatory process. In 2017, with much of that work done and the all-important presales fast approaching, Mirvish agreed to sell the project to Cohen's Westdale and two other local developers, one named Great Gulf Group and the other Dream.
"I'm not a developer," Mirvish says with a shrug when he stops by the Park Hyatt to say hi to Gehry, and I ask why he sold.
"I don't want to spend the next seven years of my life watching and supervising construction."
With development expertise came more changes, as Cohen and his partners determined that Mirvish's plan would make units too pricey, risking a presale flop that would keep the project from being built. First up for scrutiny was the ripple design of the metal panels running down the towers' facades. In New York, achieving that had required the concrete slabs of each floor to be custom produced with wavy edges for the stainless-steel skin to be mounted on. The lack of bespoke concrete production capacity in Toronto would've made the necessary customization prohibitively expensive at scale. The developers asked Gehry if he could achieve the effect of movement that he was going for with flat-edged concrete instead, which would restrict the depth of the facade to no more than 10 inches.
Gehry and his team in LA took up the challenge. Determining that light would be the best vehicle for dynamic effects at such a shallow depth, they began crinkling up different types of metallic paper to see what looked best. They hit on a stainless-steel cladding that could be manufactured to look like aluminum foil after it's been balled up and smoothed out. Then they placed a prototype panel outside their office and trained a camera on it to observe how its crinkles and folds caught sunlight and reflected it throughout the day. The aim was for the pattern of reflections in the steel to complement the sparkling colors in the glass, creating a varied texture that Gehry hoped would recall the "humanity" of the stone and brick structures from the city of his youth.
Other tweaks followed, such as eliminating balconies, which both developers and architect agreed people rarely use, especially at supertall heights where the weather patterns can make them less comfortable. Then they lowered the height of each tower by eight stories, as the developers came to believe the added cost of building that high outweighed the potential income from the units. They also expanded the total surface area of each floor, allowing them to build more large units, which the developers determined would help with sales.
Digital rendering of the Forma towers in downtown Toronto. Source: Great Gulf
But the most dramatic change was borne of aesthetics rather than economics. In the Mirvish design, both towers were relatively uniform in their ascent, but when Gehry reworked them he broke each into four vertical sections, cantilevering and then twisting the pieces to set them at odd angles to each other, as though they were the irregular wooden blocks he'd played with as a child. These varied angles came partly from Gehry's determination to consider how people inside the towers experienced them, in addition to those outside—the shifts are intended to avoid having the view from any condo be completely occupied by the unit in the tower opposite. The overall effect from the outside is movement, Gehry's aesthetic goal from the start; towers practically dancing with each other as the materials in their reflective facades sparkle and shift.
So, while Cohen concedes that the economic-realities lasso has been doing a lot of the pulling lately, he maintains that the integrity of Gehry's vision has been just as important, if only because the economics wouldn't work without that, too. "What sets us apart from somebody else who is in the same market conditions is we have an iconic project," Cohen says. "In no way would we bastardize Frank's design."
As Gehry emerges from a black SUV at the site of his future towers, he spies a construction crane across the street and stops in his tracks. I ask what he's thinking. "Just trying to figure out why we're f—ing up this site," he replies.
Gehry's main complaint with the products of Toronto's condo boom isn't necessarily the towers themselves—"some are good, and some aren't"—it's how pell-mell they seem. After spending so much time thinking about the interplay between his two towers, down to the views from inside and how they relate to the city from 75 years ago, he hates the idea of other buildings spoiling those relationships. But there is a housing shortage after all, and so he resigns himself to hoping for the best from the architects and developers who build after him. He gets on with his duties for the second and final day of his Toronto visit: promotional interviews with local media. Television crews are setting up at the sleek sales center that's been created in one of the brick warehouses that will be torn down to make way for his first tower.
As the interviews get under way, Gehry diligently cycles through his talking points for each reporter. He notes that the reflective design builds on what he's done for art galleries at the University of Minnesota and the French city of Arles, recites some Toronto memories, and repeats a joke about how he wanted to use light because "light is free." After going through all this four times, he looks visibly tired and asks an aide when he can leave. Then he catches sight of me awaiting a promised last word. "This guy's still here," Gehry says.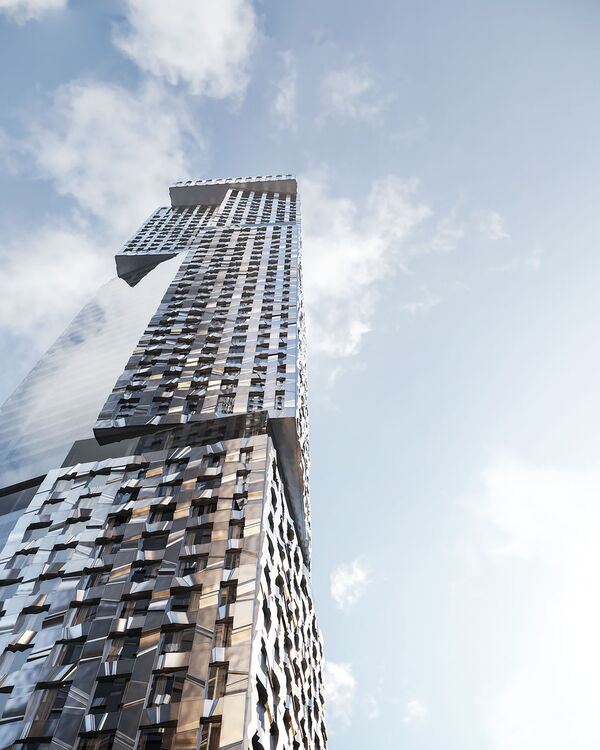 After watching him pitch away for a day and a half, I wanted to know how he felt about taking on the role of salesman for the sake of this project. "You mean I'm a whore!" he says—joking, but maybe not entirely? I start rambling something about how architecture is always a balance between art and commerce, and he abruptly cuts me off, suddenly seeming to revert to his combative, profane, good-humored self. He gamely engages with the question. "OK," he says. "So there are clients that have tried to hire me that I won't work with because they are really not interested in the community and the architecture. And then there are clients that are interested because they can market me. So there's a little bit of that going on here."
But, Gehry continues, he's convinced the developers are committed to his and Mirvish's original vision. "I didn't have to redesign everything for the bastard developer," he says. "I'm respectful of their problems," he adds a few minutes later, citing the readjustment they made to accommodate a shallower depth on the facade. "It is about economics, it is about money, it is about the people that create the companies that build. They can't do this if they don't come out the other end financially sound.
"I'm a commercial architect," he adds, eyeing Cohen, the developer, standing behind me. "I like to see the smile on Mitch's face. Look, he's smiling."
But Gehry also says he's hoping this process will change Cohen and his developer partners—that with these towers as a precedent, they'll hold future projects to a higher architectural standard, and that that might make the next decade of Toronto's condo boom better than the last. "I think after I go, in their next projects, they're changed," he says. "It's going to come back to haunt them because they understand that it's valuable."
There may already be reason for other developers to conclude similarly. The city council's decision to approve the unusual height and density of the project was explicitly because it was Gehry's design. And a public consultation he attended virtually last year was notable for the support and enthusiasm everyone expressed, rather than the objections over parking spaces or blocked views that usually characterize such meetings. In a city where not-in-my-backyard opposition to denser housing is as much to blame for the affordability crisis as anything else, this in itself stands as an achievement.
Ultimately the market will be the most important test, and initial returns have been promising. As Toronto condo sales plunged this summer in the midst of the broader market downturn, many developers responded by canceling projects, with as many as 10,000 units put on hold, according to estimates by research firm Urbanation. The launch of Gehry's first tower was a notable exception, and within a month more than half of the units were spoken for—an outlier in the current market, one industry insider told me, and a promising sign the towers will indeed be built. That's despite even a studio in Gehry's building being priced at a 6% premium to the average selling price for condos of all sizes across the city.
Although Gehry swats such questions aside, the Toronto towers do bring up inevitable talk about last projects and legacies. While his firm is accepting new commissions, these come with discussions about how to proceed if it's still in the design stage and Gehry is no longer around. Right now, there are about half a dozen projects, including the Toronto one, where the design is finished and the buildings will be considered Frank Gehry works if and when they are constructed.
"They're getting a great response," Gehry says near the end of our interview, indicating the agents who are fanning out to lock in buyers. "It pays to make good architecture," he adds. "I think the world understands that—that there is an economic reality that you can get more for this than just some schleppy building."
Browse our latest posts below.