8 Pet Friendly Luxe Accommodations in California
This is the ideal time to plan a road trip to Palm Springs, Los Angeles, Santa Barbara County, Paso Robles, Yosemite and San Francisco with your furry best friend. Say goodbye to the warm summer months and welcome the cooler fall season.
The following 8 hotels are located in picturesque locations for morning walks, afternoon hikes, and outdoor patio dining venues.
Kimpton The Rowan Palm Springs | Palm Springs, CA
The Rowan is one of the only hotels to welcome pets of all sizes with no additional charge and no deposit required for pets. Located in the center of lively Downtown Palm Springs shopping and dining district, the hotel is within walking distance to nearby parks, iconic celebrity houses and hiking trails. It's a favorite for dog owners seeking a relaxing or active desert vacation.
This contemporary design 153-room hotel welcomes pets in the elevator up to one of the light-filled guest rooms and suites. The onsite Juniper Table cafe on the ground floor offers an outdoor patio for you and your buddy to grab breakfast, lunch or light dinner.
Now through September 30, book the Dog Days of Summer package (from $275/night) and enjoy overnight accommodations, breakfast for two at the dog-friendly Juniper Table, dog toy from PoshPetCare Palm Springs, dog treats and Kimpton signature pet amenities.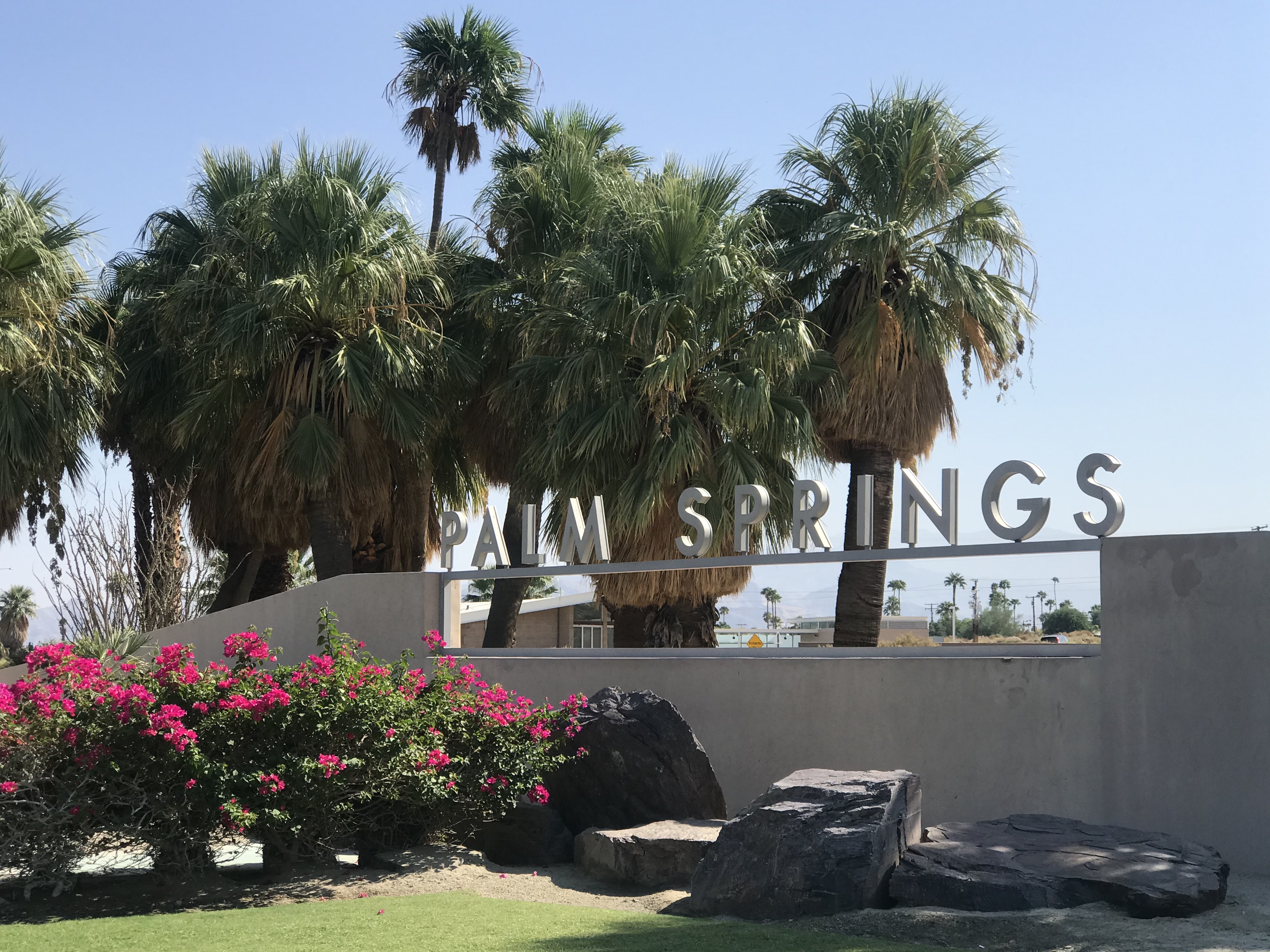 Acme House Company is a luxury vacation home rental company that manages 108 dog-friendly properties that are privately-owned luxury homes. Many are located in famous and historic neighborhoods in Palm Springs, and the surrounding desert cities. It's a good alternative to hotels for reunion groups, families, or couples looking for more space and privacy to enjoy with their furry friends.
Many of the properties are five-star accommodations with mid-century modern design, offering curated outdoor spaces with pools, Jacuzzis, and outdoor grills. It's an ideal dream desert escape for travelers with their four-legged friend.
The team behind Acme House Company offers a dine, work, play, and shop venue, Flannery Exchange. It's a mixed-use space providing desert guests and residents a modern and sustainable coffee house Café La Jefa. Guests staying at an Acme House Company property and Palm Springs' locals can bring their dogs to the café to enjoy a coffee, while their furry friend laps up a puppaccino and crunchy healthy dog treats.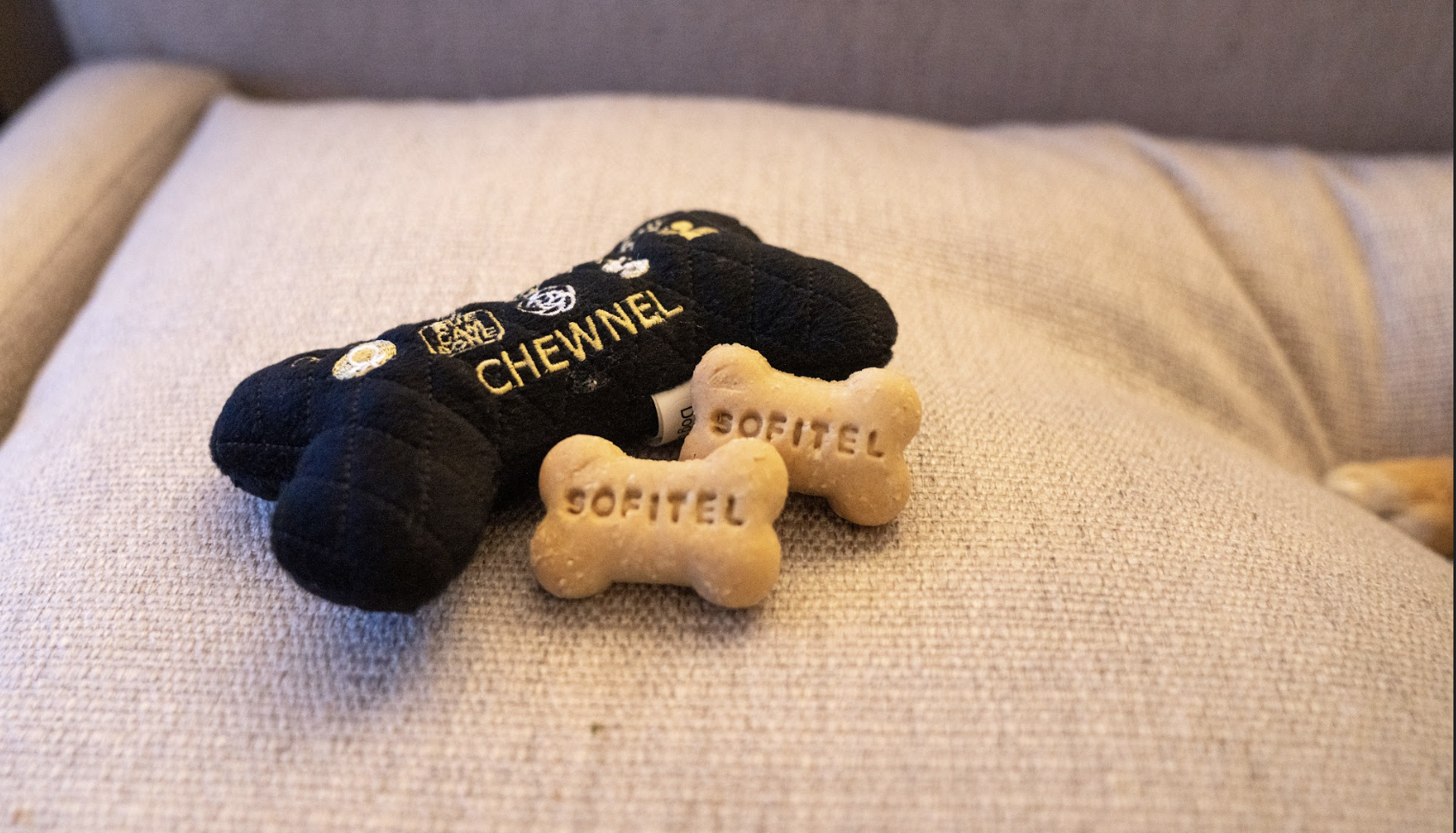 Sofitel Los Angeles at Beverly Hills, CA is another hotel that allows pets of all sizes to stay for free. Their Very Important Pets (V.I.P.) package offers you and your four-legged friend the utmost in comfort while staying in Los Angeles.
Not only will will you sleep soundly, but you pup will have the opportunity to sleep on a luxury Healopedic ® Comfort Orthopedic dog bed by premier fashion brand Club Nine Pets.  These beds are engineered to evenly distribute and balance a dog's weight and improve sleep and comfort.
Each pet receives a welcome 'Sofitel' healthy dog treat by LA-based brand DaisY's Delights. The hotel offers a special dog bowl and toys during your stay to make staying at the Sofitel a fun and joyful experience. Receive a 15% discount for grooming at Angie's Pooch Parlor and another 15% discount on same-day dog toy and accessories delivered from Kitson when using the Sofitel LA's mobile shopping app, nJoy.
This luxury brand hotel is also a proud long-time partner of Wagmor Pets Rescue Shelter, committed to preventing cruelty and promoting kindness to animals. Wagmor aims to reduce animal suffering, increase animal wellbeing and re-home dogs to responsible and caring homes where they can thrive and live happy lives. Guests can donate at http://www.wagmorpets.org/donate.
Cuyama Buckhorn | New Cuyama, CA
Located in the high desert within Santa Barbara County is the newly redesigned mid-century modern luxe-design motel offering charming guest rooms with outdoor patios, green lawns and lots of open spaces to roam and relax for guests and their pets.
Well-behaved dogs are allowed to stay in select room types with advanced notice for a $30 one-time, non-refundable pet fee charged upon arrival. No more than two dogs are allowed in the room.
There is a "pup patch" in the parking area for dogs to do their business. Guests and their well mannered furry friends are free to enjoy the outdoor gardens, pool and spa area, bocce ball, fire-pits for roasting s'mores, ping pong and pool tables.
This area offers local outdoor wine tasting opportunities, hiking trails and scenic drives to a pistachio farm through rolling hills and farmland.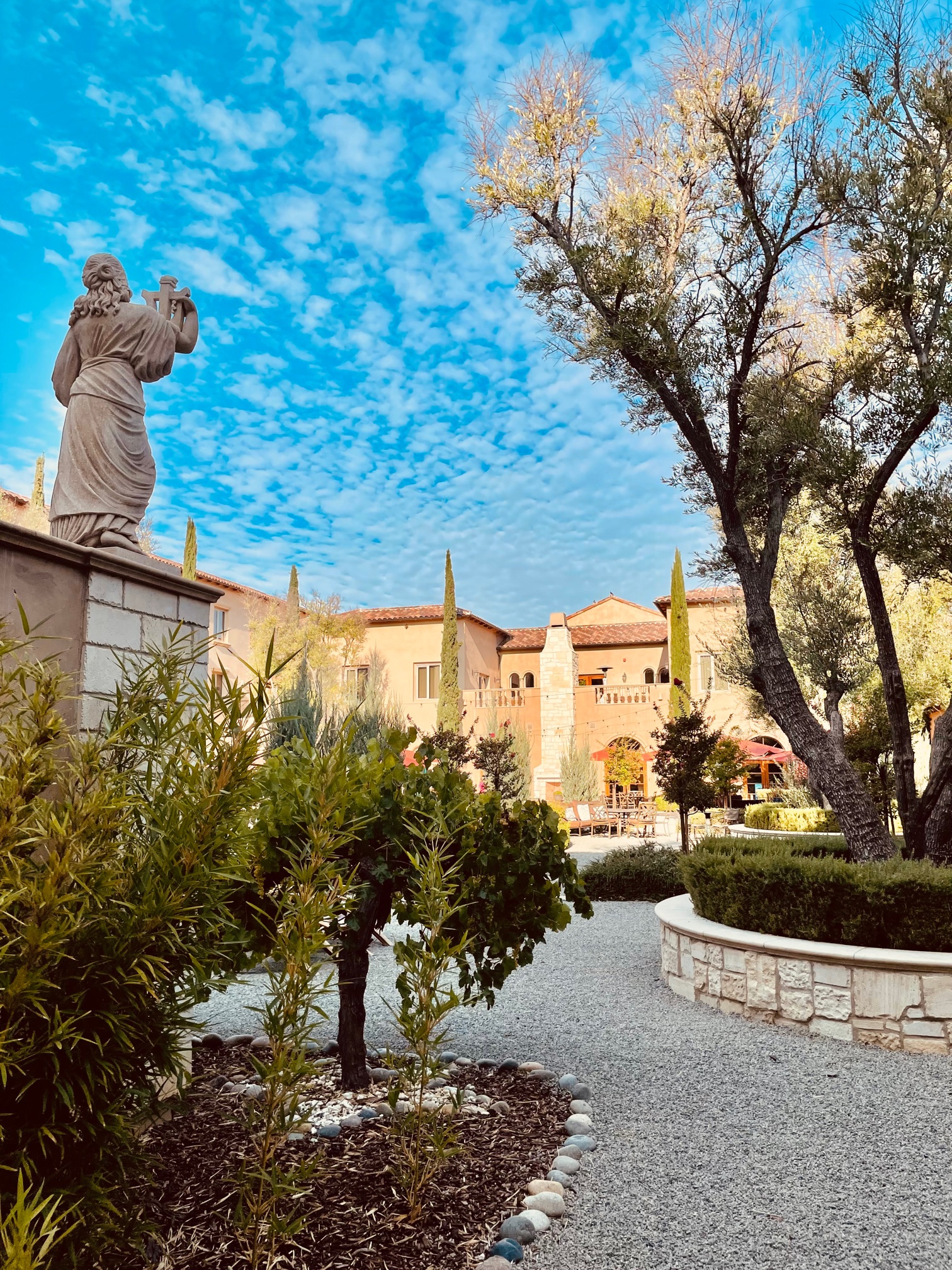 Driving up to the Allegretto Vineyard Resort in Paso Robles your four legged friend might get very excited seeing the onsite llamas and goats before the entrance of the European inspired luxury hotel. The fertile rolling hills are ideal for growing grapes and taking long walks with your buddy. Some of the grapes were planted by Franciscan monks as they made their way north along the El Camino Real in the late 1700s.
Checking in, the staff will assign one of their direct access to the courtyard guestrooms, a prelude King Terrazza, Prelude two Queen beds Terrazza or a one-bedroom king suite. Dogs will receive a complimentary water bowl and dog bed for their stay.
There is a $100 non-refundable fee per pet for up to two nights. A daily $50 fee per pet is added for each additional night.
Head over to the onsite Allegretto Vineyard Tasting Room for a bowl of water and five wine tastes. Order a cheese platter or charcuterie plate to share around the table.
Walk on a leash along the Allegretto Vineyard Path or the River Oaks Golf Course. Another popular dog walking area is the Paso Robles River Walk. It's about a five minute drive from the resort. To socialize with others, drive to the Sherwood Dog Park, located at 290 Scott Street in Paso Robles.
Besides dining at Cello Ristorante at Allegretto Vineyard Resort, other dog-friendly restaurants include Thomas Hill Organics in the center of town and Firestone Walker Brewing.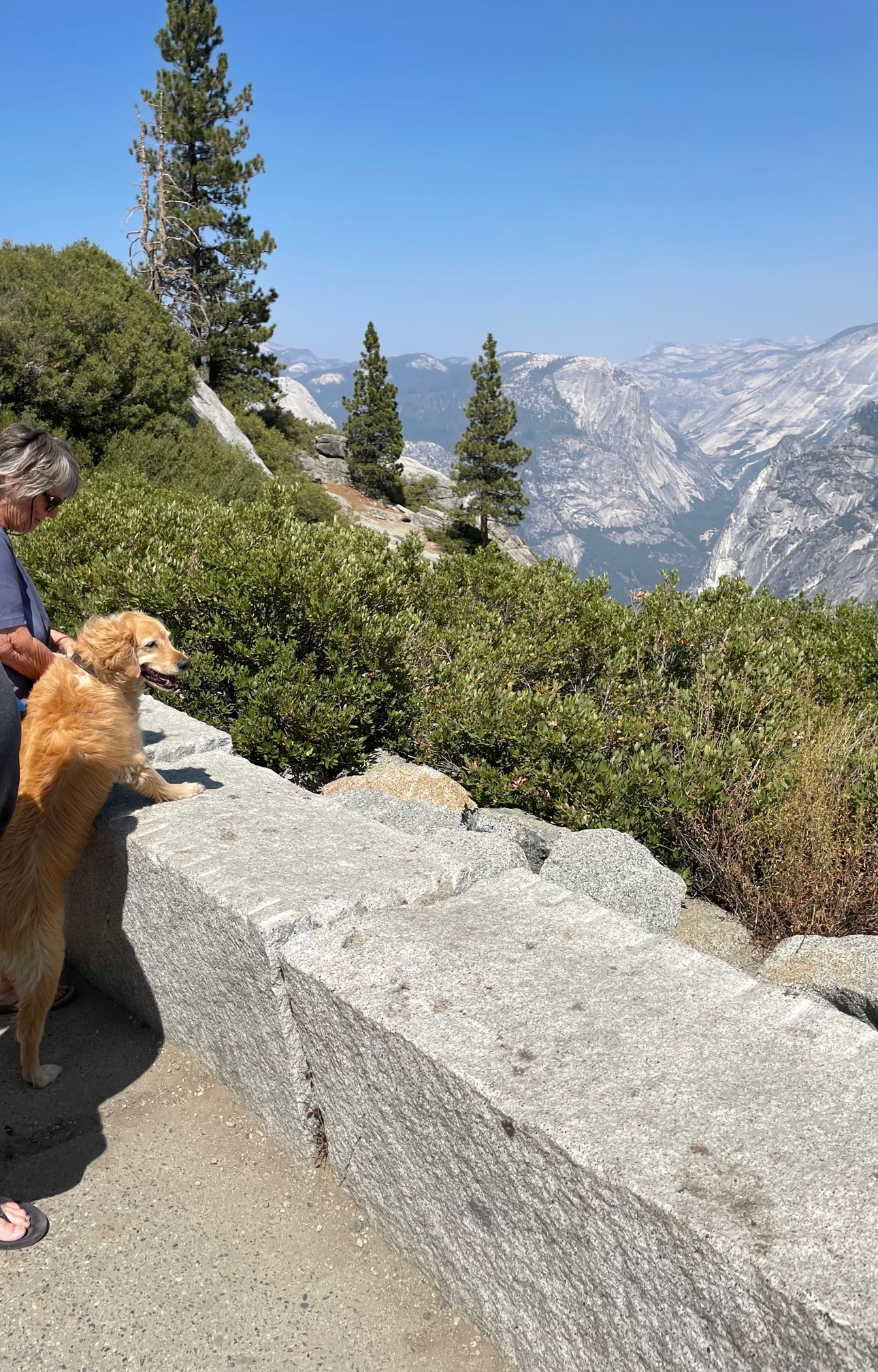 Tenaya Lodge at Yosemite is a wonderful dog-friendly resort in the National Forest among Sequoia and Ponderosa Pine trees. There are acres of trails around the property, including Jackson Road Trail that leads you to the serene Tenaya Falls.
Rooms must be booked online or call 1-800-635-5807 and mention promo code 'FIDO' for a premium Fido Friendly room at the Lodge or one of the Tenaya cottages. There is a one-time, non-refundable pet fee of $100 that will be charged to your account. All pets visiting must be up-to-date on all shots and in good health. Well mannered dogs must weigh under 70 pounds, and will receive a dog bowl and a dog bed during your stay. Many rooms are on the ground floor leading out to patio and grassy lawn.
Dogs are allowed in Yosemite National Park as long as they are on a leash walking along paved roads, sidewalks and bike paths. Bring them to see the iconic sites in Pioneer Yosemite History Center at Wawona, Tunnel View, Yosemite Valley, Yosemite Falls, Curry Village, Yosemite Village, The Ahwahnee, and Glacier Point.
Click on Explore.Better for other pet friendly State and National Parks.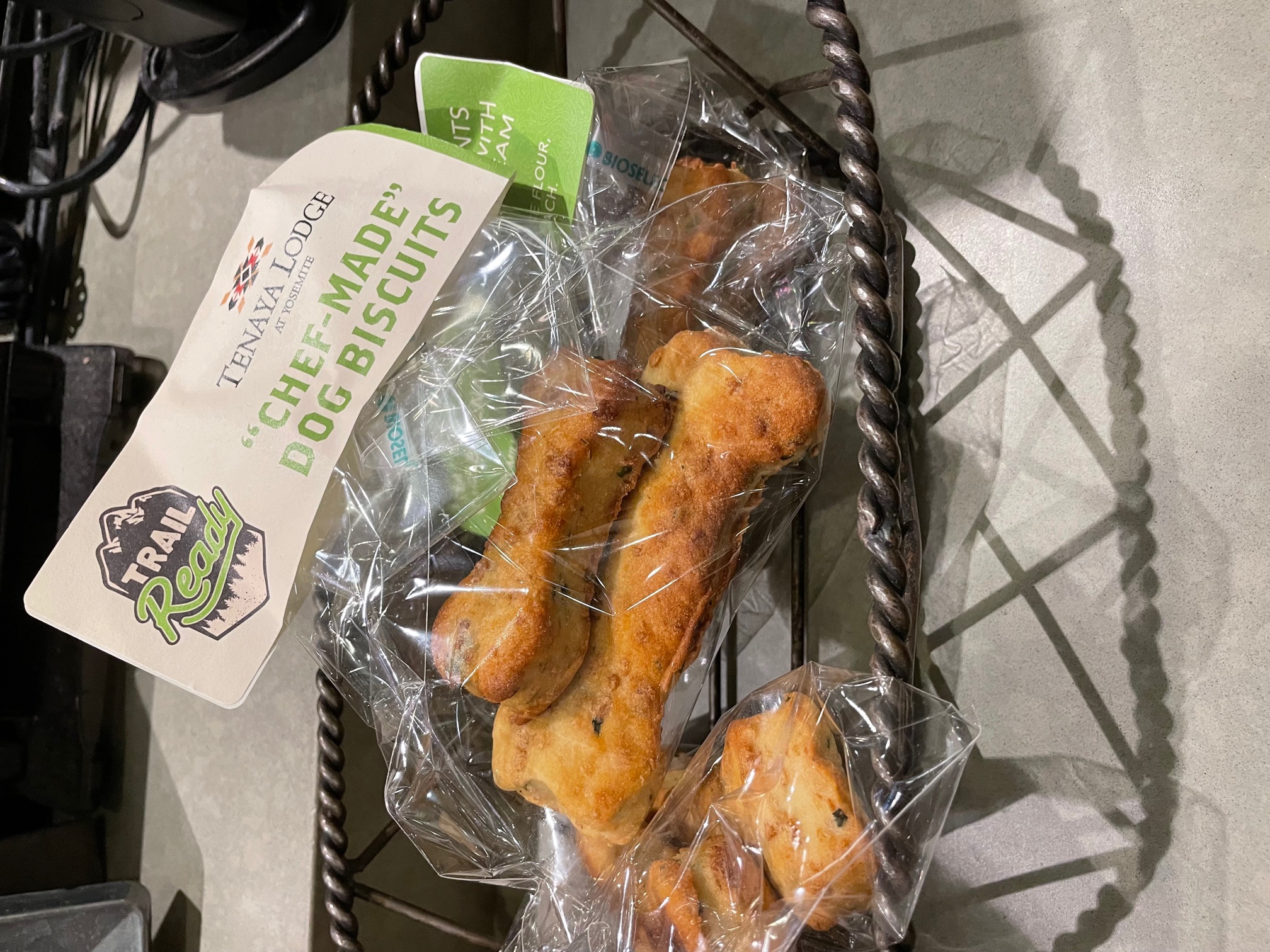 Dining options on the outdoor patio are available at Jackalope's Bar and Grill. Across the way at the Tenaya Gift Shop, the chef makes tasty dog treats that are available throughout the day. Here's where you can purchase coffee, pastries, sandwiches, salads and other fare for a picnic in the woods, or while walking on the meadow boardwalk in Yosemite Valley.
Since there are more than 400 species of wildlife in the area, The Yosemite B.A.R.K. Ranger program was launched in 2021. B.A.R.K code stands for: Bag your pet's waste, Always wear a leash, Respect the wildlife, and Know where you can go.
Pets should stay at least 50 yards away from bears and 25 yards from other wildlife.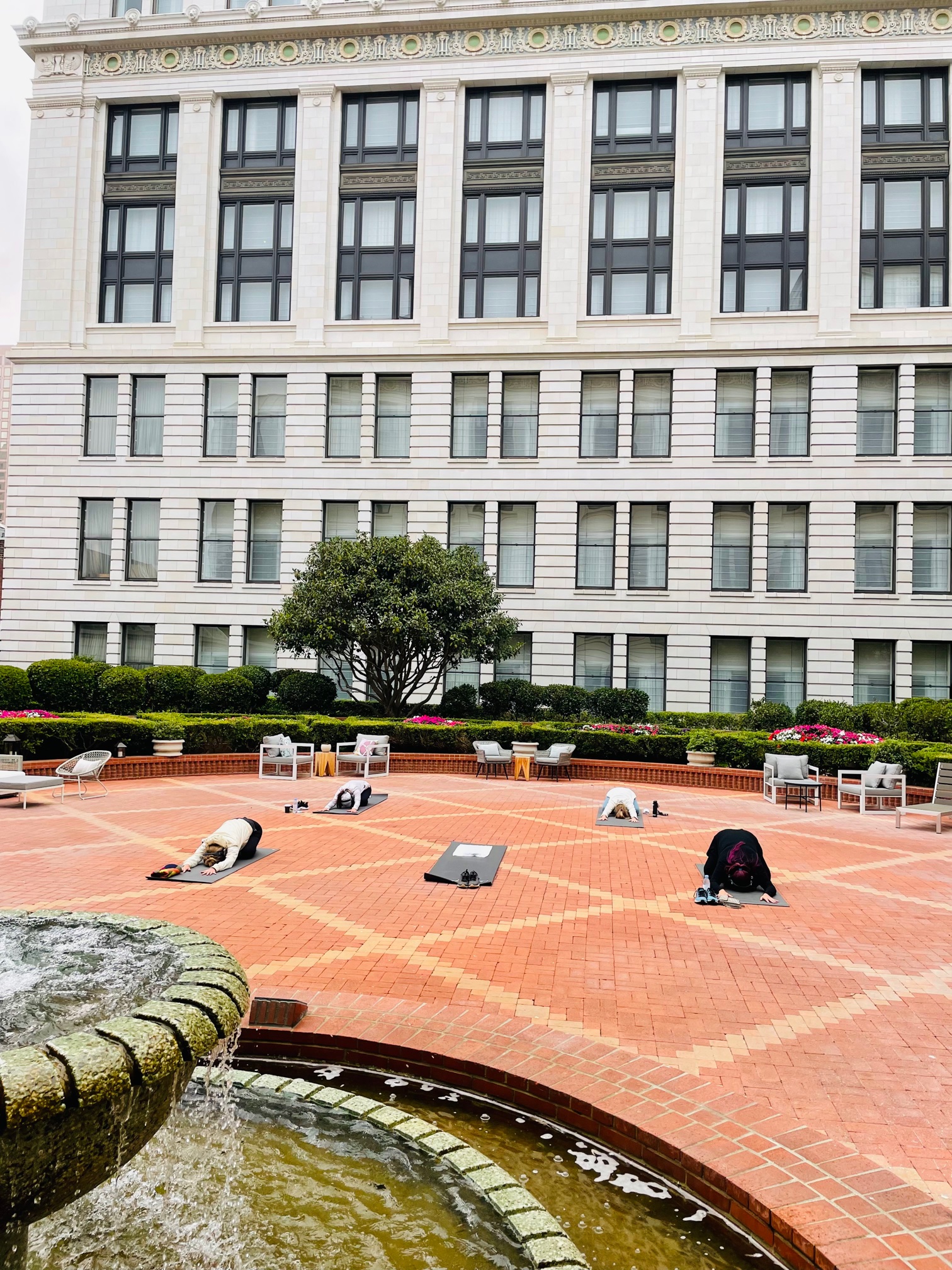 The Ritz-Carlton San Francisco, CA
Joel Costa, Director of Sales and Marketing at The Ritz-Carlton San Francisco loves dogs. He owns two dogs and enjoys seeing guests walk into the elegant lobby of the iconic Nob Hill hotel with their leashed furry friends.
There is a two dog maximum per room and a 35 lb. weight limit. Dogs are allowed to ride the elevator when on a leash or can be carried through the lobby by their owners. A $200 non-refundable pet fee will be applied to each guest folio per stay.
This urban sanctuary offers a large park-like courtyard for pets and their owners. On the weekends, guests participate in a complimentary morning 'silent disco' yoga to breathe, pose, and meditate in the garden-like setting with a city view.
Nearby is a park to meet other dogs, before exploring unique San Francisco neighborhoods with your best buddy. Within a block is Chinatown and 10 blocks to North Beach and Coit Towers. Continue on to Pier 39 to see the sea lions, boats sailing in the harbor and Alcatraz Island in the distance.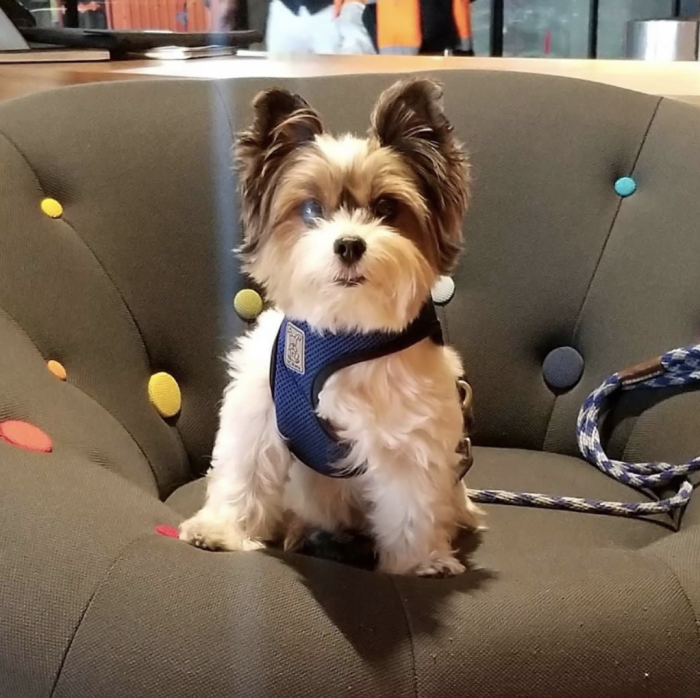 BEI San Francisco, Trademark Collection by Wyndham Hotel | San Francisco, CA.
This modern, non-smoking lifestyle hotel received a $30 million transformation in January 2020. Located a few blocks from San Francisco's entertainment headquarters, BEI San Francisco welcomes dogs with updated vaccinations that are up to 60 pounds.
Stay up to 5 nights and a non-refundable $75 fee will be charged to your account upon check-in with your dog. Guests are also responsible for any damages to the room and its contents your dog may cause. If extensive cleaning or damage repair is necessary, beyond the normal deep cleaning process, you may be charged an additional fee of $250.
As with other hotels, you may leave the premises of the hotel without your dog, as long as your dog rests in a crate or pet carrier while you are gone.
Take walks with your pal to some of the world-class restaurants, the Civic Center Plaza, Moscone Center, and Union Square.
Browse our latest posts below.